Your one-stop resource for occupational health care
Injury care, prevention, and safety
Kaiser Permanente On-the-Job® (KPOJ) is a coordinated care program focused on the health and safety of your workforce. We understand the demands facing today's workplaces and are committed to helping keep employees happy, healthy, and productive.
KPOJ has one of only four managed care organizations (MCOs) in Oregon. With nearly 80 years of occupational health experience, we're experts at providing:
Healthy employees mean a healthy business
Our full-service occupational health program offers a unique, integrated care delivery model with a wide range of care that employers and employees need for a healthy work environment.
Employment physicals and immunization programs are designed to help reduce employees' chances of injury or illness. If an injury or illness does occur, we're committed to helping employees return to work as soon as medically appropriate and to keeping employers informed of their health status.
We offer our services to all employees — even those who do not have Kaiser Permanente as their health plan.
The Kaiser Permanente On-the-Job difference
We use outcome-based strategies to help manage claims costs, including:
Integrated care
Our teams stay connected through our electronic health records system, helping them make well-informed decisions, faster.
One-stop convenience
Our clinics offer easy access to specialized care, X-rays, physical therapy, and more in one time-saving location.
Case management
We coordinate clinical services with employers, injured workers, and claims organizations.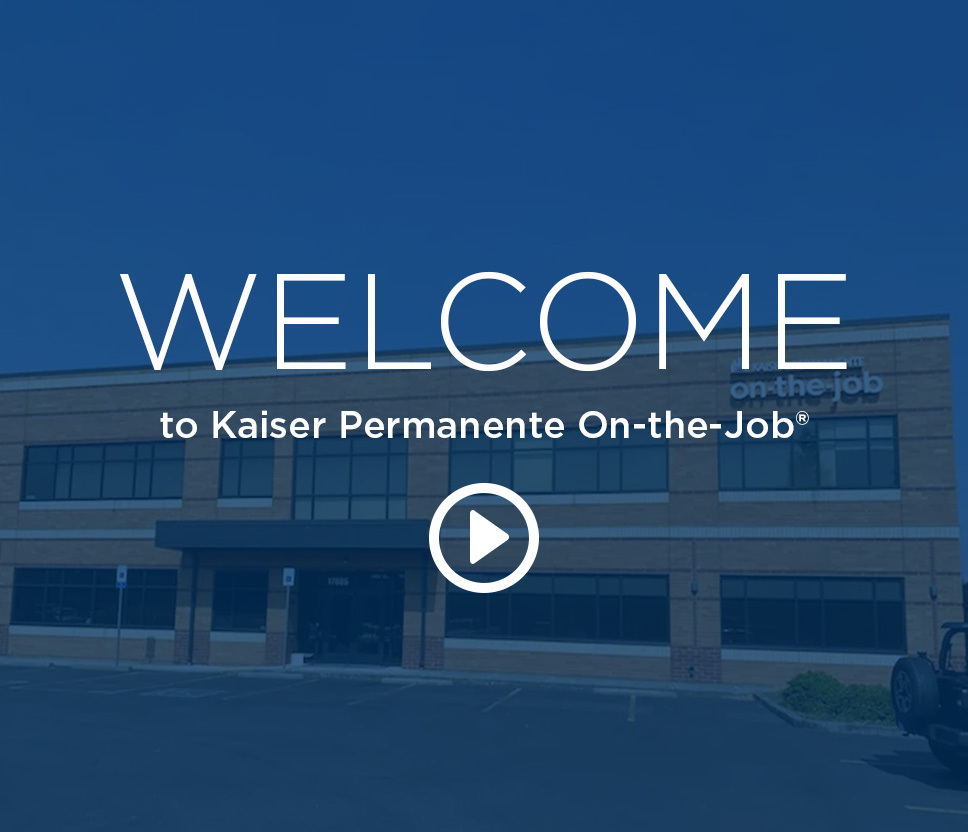 Experience it for yourself
Take an exclusive virtual tour of our facilities and learn more about the value KPOJ can provide your business.
Find a Kaiser Permanente On-the-Job clinic near you
Occupational health experts
Each of our four locations offers a full range of workplace health and injury treatment services provided by specially trained Northwest Permanente doctors who are board certified in Occupational Medicine. Our specialized teams focus on prevention and evidence-based care that helps workers get better and back on the job sooner.